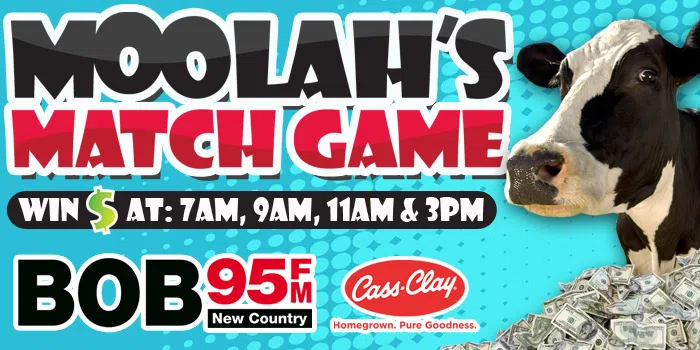 THE BOB 95 FM CASH COW IS BACK!
With MORE chances to WIN even MORE MOOLAH!
The Cash Cow has already handed out over $300,000 in Moolah to BOB 95 FM listeners…and she's back with another round of MOOLAH'S MATCH GAME and your chance to win a ton of FREE MONEY!
And for this round we are playing on smaller boards for faster matches…and there will be MULTIPLE GAME BOARDS!
SIGN UP to play below,  then listen to win up to ONE THOUSAND DOLLARS at 7,9,11 & 3!
It's Moolah's Match Game…now with multiple boards for faster matches…and even MORE MONEY to win…from Cass/Clay and BOB 95 FM.
**Join the BOB 95 FM CASH COW PLAYERS GROUP on our Facebook page for inside info, discussion and details to help you win!**